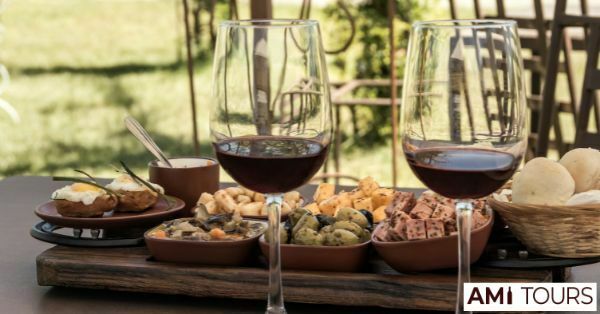 About Yarra Valley Winery
From Melbourne, it's easy to drive to the Yarra Valley, which usually takes about an hour. There are three main towns: Seville, Yarra Glen, and Healesville.
These three towns form a triangle, but they are only 10–20 minutes away from each other. So make sure you plan your day in a way that works. You wouldn't want to spend the whole day going from winery to winery around Seville and Yarra Glen/Yering.
The Yarra Valley is great because it has something for everyone. There are some well-known large commercial wineries that are great for groups. But there are also a lot of small, family-run wineries that offer a more personal experience, smaller wine lists, and a great place to talk.
The Yarra Valley is known as a wine region with a cool climate, but it can be cold all year. Even if it's summer, bring a jacket just in case. Expect to wear your warm clothes, though, from fall to the end of spring. Autumn is my favorite time to visit because the vines and trees have their most beautiful colors before winter. But Spring is also a beautiful time because flowers begin to bloom.
The Yarra Valley is famous for its Chardonnay and Pinot Noir wines. But there are also a lot of other wines to try, like Cabernet, Shiraz, and some more unusual ones. Each winery has different wines and different things to do, so you'll always find something new.
About Yarra Valley Wine Varieties
Chardonnay:
Chardonnay is the best grape variety in the Yarra Valley. Chardonnay grapes are very sensitive to their growing conditions, which is why they are grown in cooler, higher-altitude vineyards in the south. In line with modern tastes, most Yarra Valley Chardonnays are made in a more restrained style that is lighter in weight and has less oak flavor. They smell and taste like citrus, stone fruits that are ready to be picked early, minerals, and flowers.
Sauvignon Blanc:
Sauvignon Blancs from the Yarra Valley tend to be rounder and have more fruit than those from New Zealand. Fresh tropical fruit, guava, and cape gooseberry are some of the flavors. Some producers age the wine in neutral oak barrels for a more savory taste that goes well with food.
Pinot Gis/Pinot Grigio
Pinot Gris and Pinot Grigio are both types of white wine. Pinot Grigio is lighter, drier, and crisper, while Pinot Gris is rounder, richer, and has more fruit flavor. These wines are made in the simplest way possible to keep their elegance and freshness. Because of this, they are often the least expensive white wines from Yarra Valley.
Sparkling Wine:
The Yarra Valley is a great place to make premium sparkling wine because it has a cool climate and is a good place to grow Chardonnay and Pinot Noir grapes. When more Chardonnay grapes are used to make a wine, it tends to be fresher, lighter, and crisper, while when more Pinot Noir grapes are used, the wine may be richer, fuller-bodied, and yeastier.
Rosé
Rosé from the Yarra Valley is usually drier, softer, and more refreshing. Flavors range from being mildly savory to be very fruity.
Pinot Noir
Pinot Noir is the most popular type of wine from the Yarra Valley. It comes from a type of grape called Pinot Noir. It also has a wide range of tastes, from fragrant and aromatic to fruity, savory, and earthy, or full-flavored and structured.
Cabernet Sauvignon:
The warmer northern part of the Yarra Valley is a good place for Cabernet Sauvignon. The best ones are elegant and have a strong aroma that goes well with hearty meats. Most of the time, they taste like red current, dark berries, leaves, and vegetables.
Shiraz/Syrah:
Shiraz likes vineyards that are warmer and lower in altitude. When compared to the heavy reds of other regions, Yarra Valley styles are much lighter. They are often very savory and a little smokey, but some producers make a style that is more fruity and has tastes of cherry, plum, and prunes.
Plan Your Trip To Wineries Yarra Valley & Mornington Peninsula
Are you looking to spend an amazing day tour at Yarra Valley wineries or Mornington Peninsula wineries? Look no further; we've got the best Yarra Valley winery tour packages and Mornington Peninsula winery tour packages Melbourne has to offer. We cover the finest Yarra valley wineries and Yarra valley wineries restaurants.
If you are in Brighton, Victoria 3186, and looking for Ami Tours below is the best way to visit us.
Contact us
Ami Tours
03 5907 7227
bookings@amitours.com.au
18/786 Princes Hwy, Springvale VIC 3171
*Find us on Google Map