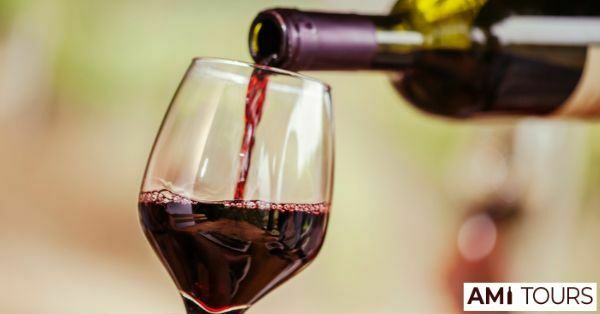 On most wine bottles it says "Serve at 45 to 55 degrees F" or "7 to 12 degrees C" which is a really terrible way to advise someone on the ideal wine serving temperature. Who is walking around with a thermometer in their pocket and taking the wine's temperature like this? Do you know the temperature of tap water? The temperature of the water when you shower? What about food? Do you know what numeric temperature you should serve a salad? No, no, and no to all of these. Then why on earth would this be how we (and by we, I mean wine people) tell wine drinkers the number value of the temperature a wine should be served at??  It's not useful information. 
How does temperature affect wine?
First let's chat about what temperature does to wine. If a wine is too cold the aromas get stuck in the wine and don't float up to meet your nose. Since wine tasting is mostly smell, then you're going to miss out on a lot of the aromas and flavors.  If the wine is too hot, well it sucks. The alcohol is pronounced, tannins in red taste funny, and it's not refreshing. Quick tip though: if a wine sucks already, get it as cold as possible so you won't taste and smell it!  
What is the ideal temperature for white wine?
White wine needs to be cold. How cold? Cold. If you know what wine you'll be drinking that night, put it in the fridge in the morning. Wine is fine in the refrigerator for a few weeks but not ideal for long-term storage. Take it out 15 minutes before serving. Now, this is assuming you don't live in the desert and the wine won't boil in 15 minutes. But yeah, it should be cold. As a general rule, light crisp wines should be colder than full-bodied oak-aged white wines. Adjust accordingly. 
It's okay to stick white wine or rose in the freezer if you don't have time to get it cold. An ice bucket will work, too.
What is the ideal temperature for serving rose wine?
Rose is the same as white, dare I say cut that down to 10 minutes. I mean, at least we walk around with a clock in our pocket to set a timer. But straight out of the fridge is fine. It'll warm up to the "ideal" temperature before you know it. Or, keep it on ice if you prefer it colder.
Do you chill red wine?
Yes! We've all heard that red wine is to be served at room temperature. Who's room? This was based off of the cellar temperature of the winery which is usually a damp cold basement.
I stick red wines in the fridge for 20 to 30 minutes before serving them, depending on the season. This is perfect every time. It's not hot so the alcohol isn't potent and it's not cold so the aromas aren't muffled.
What temperature should you serve Champagne?
As cold as possible. Sparkling wine needs to be ice cold when opened otherwise the cork with fly out and wine will bubble out of it. This is fine if you win a World Championship but otherwise, you're losing wine. Once opened safely, keep it on ice.
Plan Your Trip To Wineries Yarra Valley & Mornington Peninsula
Are you looking to spend an amazing day tour at Yarra Valley wineries or Mornington Peninsula wineries? Look no further; we've got the best Yarra Valley winery tour packages and Mornington Peninsula winery tour packages Melbourne has to offer. We cover the finest Yarra valley wineries and Yarra valley wineries restaurants.
If you are in Docklands, Victoria 3008, and looking for Ami Tours below is the best way to visit us.
Contact us
Ami Tours
03 5907 7227
bookings@amitours.com.au
18/786 Princes Hwy, Springvale VIC 3171
*Find us on Google Map