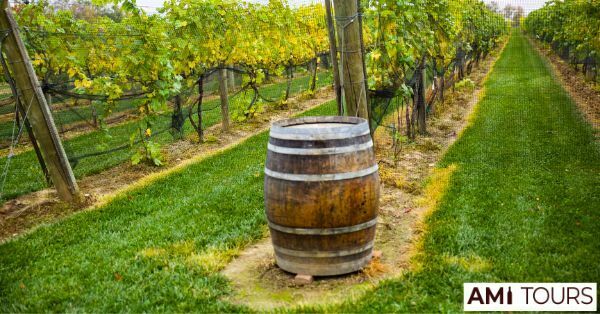 Greenstone Winery is a hidden treasure located in the middle of Yarra Glen, Victoria. It is nestled in the hills rolling through the Yarra Valley wine region, this winery owned by a family is a must-see for any wine enthusiast.
When you arrive at Greenstone visitors are greeted by the breathtaking views of the vineyard and the cozy tasting room, located in a charming, rustic barn. The helpful and friendly staff at Greenstone are always happy to guide visitors to a tour around the winery, describing the process of making wine and the story of the family-owned company.
The wines made at Greenstone are simply extraordinary, with a particular focus on the production of premium Pinot Noir and Chardonnay. The winery also produces a selection of other varieties, including Sauvignon Blanc, Pinot Gris along with Cabernet Sauvignon. Every wine is made with care and attention the smallest detail, which results in an exceptional and delicious product.
Alongside tour and tastings, Greenstone is also able to offer a variety of experiences and events such as wine dinners as well as cooking lessons. The restaurant that is on site at the winery, The Green Room, serves delicious food made with local ingredients that are perfect with Greenstone's wine.
All in all, Greenstone Winery is a must-see for anyone who is who is visiting within the Yarra Valley. The combination of breathtaking vineyard views, premium wines, and the friendly knowledgeable staff makes for an unforgettable experience.
Plan Your Yarra Glen Winery Tours With Ami Tours
Are you looking to spend an amazing day tour at Yarra Glen Winery, Healesville wineries, Yarra Valley wineries or Mornington Peninsula wineries? Look no further; we've got the best Yarra Valley winery tour packages and Mornington Peninsula winery tour packages Melbourne has to offer. We cover the finest Yarra valley wineries and Yarra valley wineries restaurants.
If you are in Bundoora, Victoria 3083, Australia, and looking for Ami Tours below is the best way to visit us.
Contact us
Ami Tours
03 5907 7227
bookings@amitours.com.au
18/786 Princes Hwy, Springvale VIC 3171
*Find us on Google Map