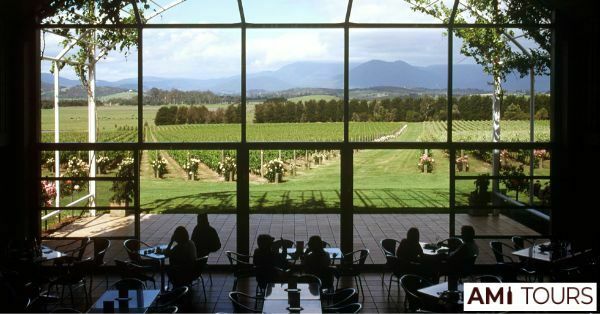 Mornington Peninsula Wineries are a great choice because there are more than 200 vineyards and cellar doors. The Mornington Peninsula is one of Victoria's less well-known wine regions after the Yarra Valley. It is a great place to go for wine, beaches, hiking, food, and more.
We put the best Mornington Peninsula wineries; the best for the whole family, and the easiest to get to from Melbourne.
The Red Hill Estate
Red Hill Estate is another beautiful winery that has everything: a great view of Westernport Bay, a delicious restaurant, and a large winery with, of course, wine tasting.
This place is known for weddings and hen parties, and its 46 acres of hillside vineyards will really impress you. There are six different kinds of wine, so there is something for every wine lover.
There are two parts to the place: the cellar door, which is the first thing you see when you walk in, and the restaurant (which overlooks the vineyard and the bay). Try a few samples at the cellar door and then have a glass or bottle with lunch, or grab a glass and sit on the hill!
Ten Minutes By Tractor
Technically, Ten Minutes by Tractor is not just one of the Mornington Peninsula Wineries; it is three – all ten minutes by tractor from each other! The restaurant is in Main Ridge and is well-known for its great set menu.
Even though it can be pretty expensive, with prices starting at around $100, we recommend trying the seasonal menu with wine pairings for $195. If you're going to do it, why not give it your all? At least, that's how we think.
The restaurant has a lot of wine. They have a short list of their own wines and a long list with over 500 wines for those of you who are really into wine.
Yabby Lake Winery
Yabby Lake is a fun, well-rounded winery that probably could have gone in any section. It is probably one of the Mornington Peninsula Wineries that is closest to the city. It is a short drive off the freeway and down some small dirt roads to Moorooduc. As you drive up to Yabby Lake, you can see a large pond in front that looks like a good place to catch a yabby or two, which is how the lake got its name.
The menu changes with the seasons and could be called high-end and sophisticated, but it's worth the price. There are two kinds of wine: Yabby Lake wines, which are more expensive, and Red Claw wines, which are less expensive.
Outside, you can see the rolling hills of Moorooduc and Mornington from a small sculpture garden with some strange works of art. The cellar door is close to a small lawn where kids can play. It has tastings and glasses of wine for you to sip while you relax.
We recommend making a reservation if you want to eat lunch there, as it can get busy, especially in the summer.
Kerri Greens

As soon as you start to wind your way around this cellar door and winery, you know you're in for something very unique and cool. After making their first wine in 2015, Kerri Greens opened their cool new cellar door at the end of 2017. However, these guys are not new to the wine business.
Both Tom McCarthy and Lucas Blanck came from families that made wine. Tom's parents are from Quealy Winemakers on the Peninsula, and Lucas's family vines come from Domaine Paul Blanck in Alsace. Since they were young, Pinot Noir and Gewurztraminer have been running through these guys' veins. They are teaching the next generation of wine lovers on the Mornington Peninsula how to make wine with the same passion they have.
From the labels to the taste in the glass, you can tell that these wines are fresh and full of life. There's the bright and young Murra Pinot Noir, which is made by fermenting the whole cluster. There's also the Hickson Chardonnay, which is made from 36-year-old vines and has a refreshing, fruity zing. Finally, there's the Pinots De Mornington Rosè, which is a wonderful blend of Pinot Noir, Pinot Meunier, and Pinot Gris.
Sarah Saxton, who is part owner and Tom's partner, is likely to be the one who pours you a glass when you visit. She knows a lot about how these amazing wines are made because she has done it herself. They like to let the fruit do most of the work here, with little fuss or intervention, and that's why we love these wines. Nothing like this has ever been seen or tasted in this area before.
Plan Your Trip To Mornington Peninsula Wineries
Are you looking to spend an amazing day tour at Yarra Valley wineries or Mornington Peninsula wineries? Look no further; we've got the best Yarra Valley winery tour packages and Mornington Peninsula winery tour packages Melbourne has to offer. We cover the finest Yarra valley wineries and Yarra valley wineries restaurants.
If you are in Chadstone, Victoria 3148, and looking for Ami Tours below is the best way to visit us.
Contact us
03 5907 7227
bookings@amitours.com.au
18/786 Princes Hwy, Springvale VIC 3171
*Find us on Google Map