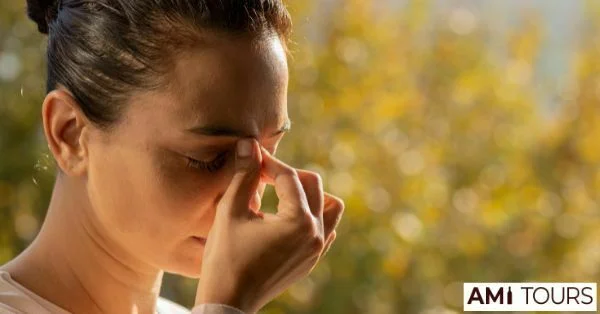 Why do some wines give me a headache?
One question I always get on our wine tours from guests is, "Why do I get a headache from drinking wine?" Different people get headaches from wine for different reasons. Different strokes for different folks. There is no one size fits all answer. It'll require a little bit of investigation and trial and error on your part to figure out the cause of wine headaches.
1. Dehydration is a Major Cause of Wine Headaches
The first place to look is at your bottle. Is it empty? Well, then it's safe to assume it was the alcohol that caused your pain. Alcohol dehydrates the body and dehydration leads to headaches. Easy fix: drink a glass of water with every glass of wine. This should keep you hydrated and keep your wine headache at bay.
2. Are sulfites the cause of wine headaches?
Also on the bottle is this warning. CONTAINS SULFITES. A-ha! That must be it! Sulfites rank first in scape-goating the headache cause. A fair assumption since it's the only thing on the label that has a warning. Okay, so if there's a warning they must be bad. They're not. Some sulfites occur naturally during winemaking. Sulfites kill bacteria which keeps your wine safe from becoming vinegar. There is a legal limit to how many sulfites can be added to the wine. Generally, there are more sulfites in white wine than in red so that myth is busted if only red wine causes headaches.
Very few people are actually allergic to sulfites. While I would never suggest a no-sulfite wine (it's likely spoiled), opt for small-production wines that are organic or biodynamic. They have a lower limit for sulfites and generally are more hands-off with their wines. Mass-produced wines are pushing all the limits with sulfites to keep the wines alive for as long as possible. A trick to see if it's sulfites is by eating dried fruit. There are ten times more sulfites in dried fruit than in red wine. If you can safely eat that, then it's probably not sulfites. 
3. Do Tannins Cause Wine Headaches?
Bottle still full? It could be tannins. Tannin is a word we don't come across in our everyday life so it's natural to assume it's this weird thing in wine that is the culprit. So far, there is no definitive link between headaches and tannins in wine. Tannins are actually good for you.
Tannins contain antioxidants that are heart-healthy. Tannins are found in tea, coffee, bitter chocolate, and a lot of other bitter foods we eat. But, they also contain flavonoids which in rare cases cause serotonin levels to rise and trigger a headache. If only high-tannin wines consistently give you a wine headache then that could be it for you.
4. Histamines can cause wine headaches, too
Another suspect is histamines. Histamines are found in lots of foods but also in red wine. Red wine goes through malolactic fermentation or MLF. Malolactic fermentation converts malic acid into lactic acid and lactic acid has high levels of histamines. Red wine contains way more histamines than white wine or rose, which do not go through MLF. Histamine reactions so severe they lead to headaches are rare. The only way to avoid them is by avoiding red wine entirely. Boo! Hiss! There are some lower histamine red wines but it's not consistent by variety or by region so there's no guarantee. Again, try the dried fruit test. Dried fruit is also loaded with histamines. If you can safely eat dried fruits, then it's probably not histamine either. 
A perfect storm
There are other factors to consider. Are you prone to headaches and migraines already? Is there a parallel between when you're drinking red wine to these other factors? For example, do you reach for a glass of red when you're stressed? Or is a storm rolling in and you've cozied up with a book and a glass of Zin? It may be worth looking into any external factors that cause wine headaches.
Wine headaches suck. Hopefully, you now have some tools to better understand what is causing yours and how to avoid one. 
Plan Your Trip To Yarra Valley Winery
Are you looking to spend an amazing day tour at Yarra Valley wineries or Mornington Peninsula wineries? Look no further; we've got the best Yarra Valley winery tour packages and Mornington Peninsula winery tour packages Melbourne has to offer. We cover the finest Yarra valley wineries and Yarra valley wineries restaurants.
If you are in Carnegie, Victoria 3163, and looking for Ami Tours below is the best way to visit us.
Contact us
Ami Tours
03 5907 7227
bookings@amitours.com.au
18/786 Princes Hwy, Springvale VIC 3171
*Find us on Google Map