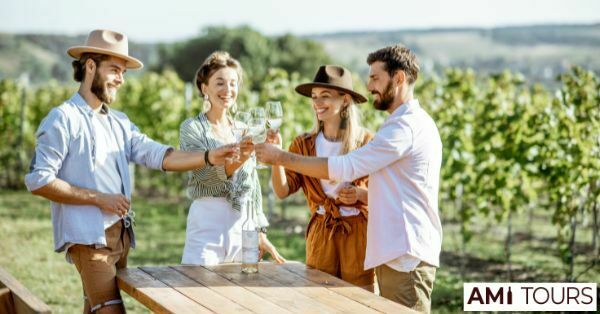 The Yarra Valley wineries near Australia's south coast are one of the best places to spend a day among the vines. They are known for their Chardonnay and Pinot Noir. Just an hour's drive east of Melbourne, wine lovers and tourists on day trips come here to enjoy the sun-drenched vineyards and satisfy their taste buds.
Yarra Valley Wine Tasting Tours
Yarra Valley wine tours from Melbourne are popular day trips because the area is close to the city and can be seen all in one day. There is a tour company in the area called Ami tours. Their tours usually leave from the CBD at 10 a.m. and return at 6 p.m., which is enough time to stop at four different wineries and have lunch.
How To Taste Wine In The Yarra Valley
Few people can say they know a lot about wine, so the staff at the wineries are happy to explain things like how the wine is made, what goes into each blend, and how something as simple as putting a tiny piece of chocolate in a glass of shiraz can make a big difference in how it tastes. Follow these steps during each pour so you don't look like a complete amateur:
Look at the wine in the glass and take note of its color, clarity, and whether or not it has sediment.
If you swirl the wine in your glass, oxygen gets into the wine and lets the aromas out. Note: Be careful if you're wearing white and you're swirling a red!
You can get an idea of what was added to the wine by smelling it. Pears? Strawberries?
Try holding a sip of wine in your mouth to taste the different flavors.
Best of all, drink up! If you don't like a certain kind, there is always a pitcher where you can dump the rest without hurting anyone's feelings and make room for the next pour. If you want to switch from red to white, make sure to rinse your glass.
Wineries To See On The Yarra Valley Wine Tour
There are about 80 wineries in the Yarra Valley, so you could visit the area dozens of times and still not see all of them. Vineyards are very different in what they offer, how big they are, and what facilities they have. Some popular places to visit on a day trip in Yarra Valley are:
Yering Station
Yering Station is one of the prettiest wineries in the area. Its hilltop location and large event spaces with views of acres of green vineyards make it a favorite. A picture-perfect courtyard leads to the Cellar Door tasting room, which lives up to its name. Exposed brick walls surround carefully arranged displays of bottles, which are bathed in light from the large windows.
The tasting bar next door is where most of the action takes place. It is a beautiful, open space surrounded by wine barrels. People who want a snack should go back to the Cellar Door, where the Produce Store sells all kinds of treats from the area, such as freshly made biscuits, jam, and relish, to name a few. You could also go to their Wine Bar restaurant and eat gourmet food while taking in the beautiful views of the Yarra Ranges.
Yering Farm
Yering Farm is a charming, rustic-chic winery that would look great on any Pinterest board. It is set in a valley, which gives it a beautiful backdrop. In contrast to most businesses, the grapes at Yering Farm are picked by hand to make sure they are of the highest quality. This is a labor-intensive method that has been used for decades.
Inside, the staff serves guests a rainbow of different wines, starting with sweet ciders that everyone likes. Yering Farm is run by a family, and they pay close attention to the little things. Since this winery only makes about 6,000 cases of wine a year, it's clear that they put quality over quantity.
Without a stop at Mot & Chandon's famous production house, a day in Yarra Valley wouldn't be complete. One of the bigger businesses in the area, it has well-kept gardens that welcome people as they walk toward the reception area.
Inside, a self-guided tour route takes wine lovers past displays that talk about Mot & Chandon's long and interesting history and explain the company's tried-and-true production process. Guests can also take a look at the huge vats where the company's famous sparkling wine and brut are stored.
The tour ends at the Chandon Tasting Bar, where staff explains the differences between the different kinds of champagne before pouring each person a beautiful glass of bubbly champagne.
Even though there's plenty of room to drink at the bar or in the next-door brasserie, the best place to be on a warm, sunny day is outside. Sit back and enjoy the view of the vineyards around you, and you'll have found the perfect way to end a day tour of the Yarra Valley.
Plan Your Trip To Wineries Yarra Valley & Mornington Peninsula
Are you looking to spend an amazing day tour at Yarra Valley wineries or Mornington Peninsula wineries? Look no further; we've got the best Yarra Valley winery tour packages and Mornington Peninsula winery tour packages Melbourne has to offer. We cover the finest Yarra valley wineries and Yarra valley wineries restaurants.
If you are in Dandenong, Victoria 3175, and looking for Ami Tours below is the best way to visit us.
Contact us
Ami Tours
03 5907 7227
bookings@amitours.com.au
18/786 Princes Hwy, Springvale VIC 3171
*Find us on Google Map