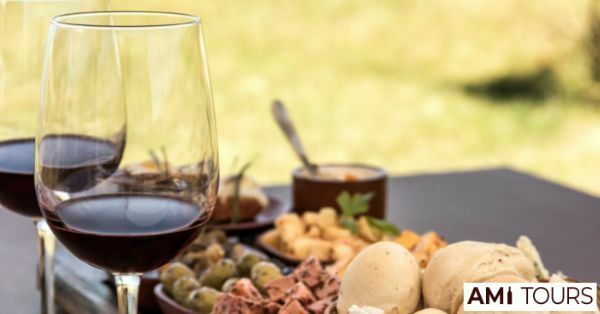 The Mornington Peninsula wine region makes a wide range of high-quality wines and has quickly become known as Australia's best place to get high-quality, cool-climate wines.
Getting to Know the Area
With its unique maritime climate, the Mornington Peninsula wine region makes a wide range of high-quality wines. It has quickly become known as Australia's top producer of high-quality wines grown in cool climates, especially Pinot Noir.
On our daily Morning Peninsula winery tour, you'll get to see some great, world-famous wineries as well as a lot of smaller, great family-owned wineries that define the distinctive wine style of the Mornington Peninsula.

Growing Areas Along the Coast
The climate of the area is shaped by the strong winds that blow across the land from Port Phillip Bay and the Bass Strait. The area has red volcanic soil and hills that rise 300m above sea level. Even though rain is usually reliable, extra watering is often needed when plants are growing. When autumn is long and mild, grapes tend to be fully ripe and have great fruit flavors, high natural acidity, and fine tannins. The Mornington Peninsula district is known for its high-quality Chardonnay and Pinot Noir. You can also find Shiraz, the most Pinot Gris in Australia, and even Tempranillo there.
The area has a long history of farming, sending fruit, berries, vegetables, and herbs to the markets in Melbourne. The area is also an important place for recreation and tourism, especially for people from Melbourne, who come there on weekends and holidays. This is a new wine region that has only just started to be used for growing grapes. Since the early 1970s, people have been making wine for sale. There are more than 200 vineyards in the world today. More than half of them are less than 5 acres, and the other two-thirds are less than 10 acres. Commercial growth, on the other hand, is being driven by the bigger players. At the moment, vineyards with more than 20 acres make up well over 40% of the total grape-growing area.
Eating and Drinking
There are many great places to stop and eat on Mornington Peninsula.
Plan Your Trip To Wineries Yarra Valley & Mornington Peninsula
Are you looking to spend an amazing day tour at Yarra Valley wineries or Mornington Peninsula wineries? Look no further; we've got the best Yarra Valley winery tour packages and Mornington Peninsula winery tour packages Melbourne has to offer. We cover the finest Yarra valley wineries and Yarra valley wineries restaurants.
If you are in Carnegie, Victoria 3163, and looking for Ami Tours below is the best way to visit us.
Contact us
Ami Tours
03 5907 7227
bookings@amitours.com.au
18/786 Princes Hwy, Springvale VIC 3171
*Find us on Google Map