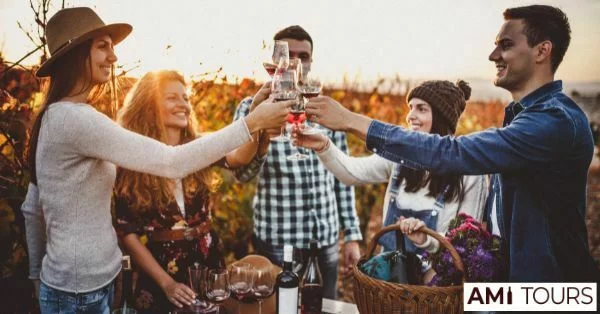 Mornington Peninsula, which is an hour's drive south of Melbourne on Australia's southern coast, is one of the most important wine regions in the state of Victoria. It is one of the coolest places to grow wine in Australia, and most of what comes out of it are elegant Chardonnay and Pinot Noir wines, which are very different from the full-bodied Shiraz wines that Australia is known for.
The area is made up of the land between Port Phillip Bay and the Bass Strait, which forms a peninsula on the southern edge of Victoria. Even though serious wine growing was tried here in the late 1800s, Mornington Peninsula is still a relatively new place for wine. Commercial viticulture didn't really get going until the 1970s, when a few independent producers saw the region's potential. Their success encouraged others to do the same, which caused the local wine industry to grow quickly. In 1997, Mornington Peninsula was given GI (Geographical Indication) status.
The location of Mornington Peninsula near Port Phillip Bay and the Bass Strait has a big effect on the local terroir. In fact, the area shows how viticulture changes in a cool maritime climate. Because of the water, temperatures are more stable and frost doesn't happen as often, and the growing season is much longer than in more landlocked places. Together with the cool sea breezes, this helps the grapes keep their acidity as they ripen. Mornington Peninsula gets a good amount of sunlight, so grapes have plenty of time to develop strong flavors and tannins.
Most of the rain falls in the winter and spring on Mornington Peninsula, and the summers are warm and dry. This works well with the red basalt soils, which hold enough water that they don't need much watering. Ancient lava flows created these soils, which have a lot of iron, are moderately fertile and have a lot of cracks that make it easy for surface water to drain away. This leads to healthy vines with deep root systems that produce high-quality berries that turn into intense, concentrated wines.
Mornington Peninsula is known for the high quality of the wines it makes, especially Chardonnay and Pinot Noir, from grapes that grow well in cool climates. Other aromatic varieties like Riesling, Pinot Gris, and Viognier are also grown here. Shiraz and Cabernet Sauvignon made in a cool climate are also made, and they are very different from those made in other parts of Australia.
About Mornington Peninsula Wine Tours
Science and the art of making great wines have helped the Mornington Peninsula come up with new ideas and make unique discoveries. Come try wines like Pinot Gris, Pinot Grigio, Pinot Noir, Chardonnay, Sangiovese, and Shiraz that are grown on the Peninsula. Wine Time Tours is all about putting people's taste buds to the test in a fun way so they can discover new flavors and possible food pairings. The Mornington Peninsula Region has everything you need to enjoy great wines while you're surrounded by vineyards, hills, valleys, beaches, and views of the ocean. We have more than 60 cellar doors that are all fun and friendly.
All pick-up and drop-off points are on the Mornington Peninsula, and they can go as far as the Melbourne Central Business District. With all the possible places to go and ways to plan your trip, we can help you choose the best wineries and restaurants for the day.
Wine Tours is all about wine, but they also go to places that are known for beer, cider, gin, rum, cheese, and chocolate. On the Mornington Peninsula Wine Tours, we have a lot of options for fine dining, great food, and beautiful views. We promise you a great day out that is tailored to your needs.
Plan Your Trip To Wineries Yarra Valley & Mornington Peninsula
Are you looking to spend an amazing day tour at Yarra Valley wineries or Mornington Peninsula wineries? Look no further; we've got the best Yarra Valley winery tour packages and Mornington Peninsula winery tour packages Melbourne has to offer. We cover the finest Yarra valley wineries and Yarra valley wineries restaurants.
If you are in Camberwell, Victoria 3124, and looking for Ami Tours below is the best way to visit us.
Contact us
Ami Tours
03 5907 7227
bookings@amitours.com.au
18/786 Princes Hwy, Springvale VIC 3171
*Find us on Google Map