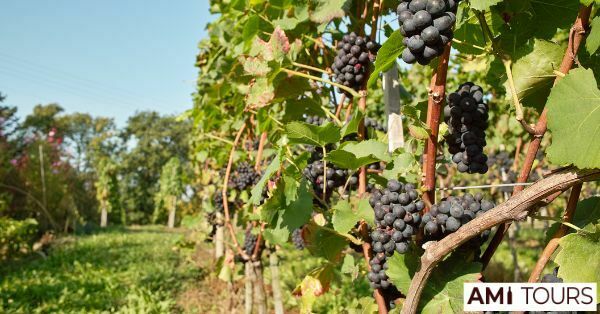 The Chief Vigneron Domaine Chandon arrived in the Yarra Valley in the mid-1980s, ready to leave his stamp on the history of Australian sparkling wine. He boasts the only claim to genuine French winemaking ancestry in Australia.
In a fortunate turn of events, Winemaker Robert Jean de Vogue stumbled upon a location that was ideal for Domaine's plans: an old and foggy dairy farm hidden away at Green point in Victoria's picturesque Yarra Valley, with a cold climate and rich soil ideal for the traditional white sparkling wines they wanted to produce.
Since then, they have been making some of Australia's most well-known sparkling and white wines, which are typical of the traditional Chandon Style that is now renowned worldwide.
For this month's winery spotlight, we spoke with the owners of Domaine Chandon, the foremost producer of Traditionelle-made sparkling French Brut Cuvee in Australia.
What is the history of the winery, please?
The head of Mot & Chandon at the time, Robert-Jean de Vogüé, saw a huge opportunity for new world wine-growing locations to make world-class sparkling wines. With this exploratory mindset, he founded Bodegas Chandon in Argentina in 1959, then wineries for the Chandon brand in California and Brazil in 1973, and finally Domaine Chandon Australia in 1986. Our "Green Point" site in the Yarra Valley was bought in 1987, and in October of the same year, the first Chandon vines were planted there. After over three decades, we have become one of the Yarra Valley's most well-known wineries.
When Chandon was established, the Australian market was thriving with Champagne, still wines, and carbonated sparkling wine; nonetheless, there was a need to fill this vacuum by producing a high-end, méthode traditionally sparkling wine there. Since the beginning, this has been our exclusive focus.
We began in the Yarra Valley, but since then, we've acquired two more estate vineyards: one in the Strathbogie Ranges and one on the Whitlands High Plateau. The diversity of our vineyard resources guarantees that we will continue to produce méthode traditionnelle sparkling wine of the highest caliber with a distinct Australian personality.
What varieties of champagne and wine do you specialize in?
The cornerstone of our current business is Chandon Brut NV, which is the undisputed bestseller in Australia. Though we began as a vintage wine company, the art of creating vintage sparkling wines still plays a significant role in what we have to offer. One of the largest selections of vintage méthode traditionally sparkling wines in the nation can be sampled at our cellar door.
Our timeless, extended yeast age wines, Late Disgorged, are at the top of our range. We counteract this with innovative ideas like Chandon S, a crisp sparkling wine mixed with freshly made orange bitters and served over ice.
Could you briefly describe your winemakers and winemaking process?
Do you have a restaurant on site? Do you serve culinary samples, such as cheese platters? If so, what varieties of food do you provide?
Our restaurant offers a contemporary seasonal menu with a French influence that is best paired with complementary wines. Beautiful interior design from a reputable design firm The restaurant experience is completed with Foolscap Studio, indoor and outdoor seating, and sweeping views of the winery's magnificent Green Point vineyard.
Along with the restaurant, the winery also features a lounge bar that serves wine by the glass or bottle and has a laid-back wine bar atmosphere. Its centerpiece is a statement seating banquette with a direct view of the winery's vineyard, which is situated in the center of the basement door. A fun kinetic mobile depicting the erratic behavior of bubbles hangs above the Lounge Bar.
Do you provide catering for special events? If so, could you briefly describe your services?
Chandon's Sunday School wine instruction program is available every Sunday. Discover how each bottle of Chandon sparkling is made using Australian expertise and 250 years of Champagne heritage in this memorable Chandon experience. Whether you're a novice or an experienced wine drinker, our in-house wine specialists provide a unique wine class where you can discover how professionals taste, discover how each grape variety affects the wine's personality, and savor precisely paired canapés.
Chandon occasionally holds exclusive gatherings for members of its Étoile Wine Club. By becoming a member of the club, wine enthusiasts are welcomed into the enchanted world of Chandon, where they can enjoy effervescent discounts at our cellar door, limited-release wines delivered right to their home, free access to Chandon Sunday School, and Q&A sessions with our winemakers.
What distinguishes your winery from the surrounding vineyards?
In order to improve the tourist experience while they are on-site and highlight our vineyard position, which is often regarded as the most stunning in the Yarra Valley, we launched a brand-new makeover of our hospitality center in December 2017.
A variety of educational backgrounds and experiences are catered for in our winemaking experience. There is an experience to suit every preference, whether guests want to engage in a thorough debate about méthode traditionnelle winemaking at the tasting bar or simply want to take a glass of champagne and relax on our outdoor patio.
Do you have any local attractions that you would suggest to tourists?
Healesville Sanctuary, one of Australia's most popular tourist destinations, is a short drive from Chandon and is the ideal site in Victoria to view and interact with native Australian wildlife in a breathtaking wilderness setting. Delicious handmade cheeses are available from The Yarra Valley Dairy, while Four Pillars Gin offers a contemporary distillery experience.
Another thing?
The Yarra Valley's STAR winery is Chandon, according to the 2018 Gourmet Traveller WINE Best Cellar Door Awards. Leading wine writers in the nation combed every region in search of star wineries, excellent tasting opportunities, and restaurants serving top-notch cuisine. Wineries were judged on the level of wine quality, personnel expertise and service, stemware, cuisine, ambience, setting, and location, as well as how these elements work together to create the full Cellar Door experience.
Plan Your Trip To Wineries Yarra Valley & Mornington Peninsula
Are you looking to spend an amazing day tour at Yarra Valley wineries or Mornington Peninsula wineries? Look no further; we've got the best Yarra Valley winery tour packages and Mornington Peninsula winery tour packages Melbourne has to offer. We cover the finest Yarra valley wineries and Yarra valley wineries restaurants.
If you are in Brighton, Victoria 3186, and looking for Ami Tours below is the best way to visit us.
Contact us
Ami Tours
03 5907 7227
bookings@amitours.com.au
18/786 Princes Hwy, Springvale VIC 3171
*Find us on Google Map